Is It Time To Sell My Website(s) And Get PAID!
---
Should I Sell My Website And Cash Out On My Investment?
There are many valid reasons why you might want to sell your website:
1. You've hit a ceiling
You might feel that your site has reached its potential, both in income and traffic. If you can't see yourself getting any more out of your website — or you don't want to put in the effort required — it's probably time to move on.
2. You've got stuck in a rut
You could be bored with your current site or frustrated that it's taking up your time and resources. A website that you might have been passionate about ten years ago might be less relevant now. It's better to move on than cling on to a past that's not making you happy.
3. You want to invest in other projects
Even if the website is very successful, you might be tempted to cash out to move on to other opportunities. It can be incredibly rewarding to take your experience and success and put them into a new project.
Whatever the reason, if you chose to sell your website, you need to know how much it is worth.
How Much is My Website Worth?
It's hard to say exactly how much you'll get for your website if you sell it but there are various ways to get a ballpark idea of what to expect.
A common rule of thumb is multiplying your monthly revenue by 24–36. So, if your website brings in $1,000 per month, you could expect $24,000–$36,000 at sale.
Of course, there are many factors that determine a website's value. Your net profit, long-term profit, and revenue streams are all important considerations for a potential buyer. Websites that bring in a lot of organic traffic are often worth more than those that heavily rely on adverts for their visitors (here are proven tactics to drive more traffic to your website).
For a (bit) more accurate idea, you can use an online website value calculator or domain appraisal tool to determine a guide price based on these other factors.
7 Website Value Calculators (And How to Use Them)
There are lots of options available for website appraisal, from the spreadsheet calculator to dedicated tools and some require more information than others. Because of this, you'll likely get some discrepancy between the results.
Try a couple of different calculators to get a good idea of your website value but bear in mind that any number is just a guide. A real buyer might offer more or less should you decide to sell.
How to use a Website Value Calculator
Website value calculators tend to work in a similar way, requiring you to enter certain information about your site to determine a guide value.
Here are a few examples of website value calculators that you can use to determine what your website is worth:
Flippa
Empire Flippers
FitSmallBusiness
Worth Of Web
GoDaddy
SiteWorthTraffic
Siteprice.org
1. Flippa
Flippa claims to give you "the most accurate valuation available on the market in minutes". Its 6-step process is straightforward and takes just a few minutes.
You're required to enter your details, including your name, email and phone number before you can access the report.
2. Empire Flippers
Empire Flippers claim to be "the #1 curated marketplace for buying and selling established, profitable online businesses."
The simple step-by-step tool allows you to enter your business' details to gain a valuation in a few minutes. You must provide your email address, and an optional phone number, to receive the website valuation.
3. FitSmallBusiness
FitSmallBusiness calculator gives you two valuations based on your income and your industry's multiplier, giving a rough idea of what your business is worth.
This calculator does not take your website into account, so it's worth using it in conjunction with one of the domain appraisal tools below.
4. Worth Of Web
This tool by Worth of Web allows you to find a valuation for any website simply by entering the URL. It then provides an instant report with no need to enter your personal details.
This is a great tool to use to estimate how much your competitors' sites are worth to benchmark your own website value.
5. GoDaddy
GoDaddy estimates the value of each domain by looking at millions of historical domain name sales. It uses machine learning and years of real market sales data to create a solid starting price for sales, trades, or negotiations.
While this doesn't take into account the value of the business and the website itself, it gives you a good idea of how much just the domain might bring in if you're no longer planning to use it.
6. SiteWorthTraffic
SiteWorthTraffic is a free tool that estimates a site's value and overall performance, simply by entering the URL. There's no need to sign up or enter lots of information to generate the instant report.
Again, this tool doesn't factor in the actual website itself and its business practices, but the inclusion of ad-based revenue is a useful indication. A great feature is its list of recently estimated websites, which might provide further insight into your website value.
7. Siteprice.org
Siteprice.org is another free domain appraisal tool that allows you to see a website's estimated value and performance by entering the URL.
While some of the estimates seem a little buggy, such as social media visibility, Siteprice's report includes 100 similar websites along with their values for comparison.
How to Sell Your Website
Now you know how much your site is worth. The next natural question is: where can you sell it online?
Buying and selling websites is a pretty similar process to buying and selling real estate. Domains are like physical addresses and websites are like the properties themselves. It's, therefore, a good idea to use a professional service.
Where to Sell Your Website?
As with any sale, it's incredibly important to make sure that you sell your website through a safe, secure, and reputable website broker to avoid issues.
By working with a professional company that has lots of experience in website sales, you can guarantee the best price and a smooth transaction.
Flippa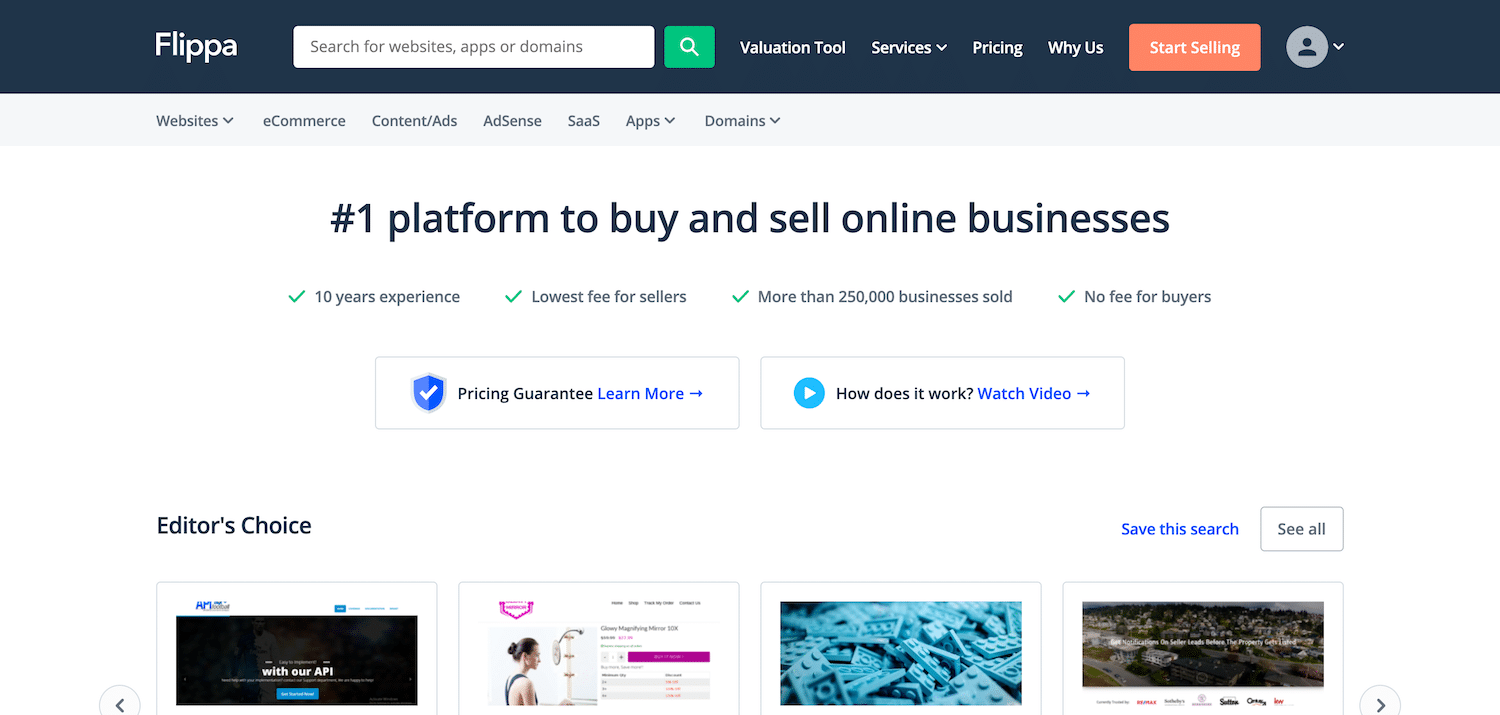 We looked at Flippa's business valuation calculator above but Flippa is mainly a marketplace for buying and selling online businesses. Once you've figured out what your business is worth, you might want to take the next step.
Describing itself as the "#1 platform to buy and sell a business", Flippa has a handy directory of trusted business brokers, showing their location, specialties and the price range of the businesses that they represent. You can then list your business with your chosen broker through a Flippa account.
Empire Flippers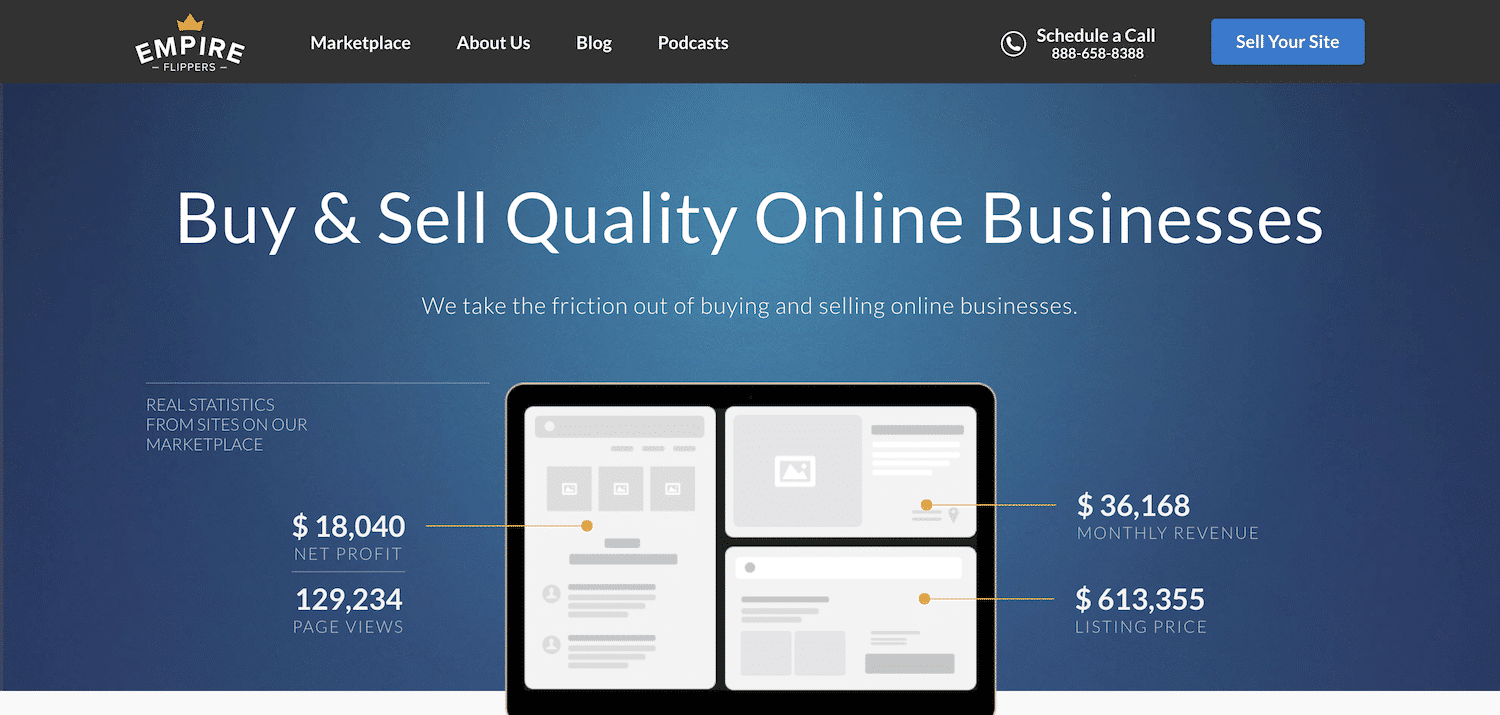 Again, Empire Flippers offer a great business value calculator and they can take care of the next step, allowing you to make more money than if you sold the site on your own.
When you list your business with Empire Flippers, it will be sent out to over 90,000 subscribers. This gets your site seen by more people and attracts more genuine interest. These connections allow Empire Flippers to target buyers that they know are looking for a particular type of site.
FE International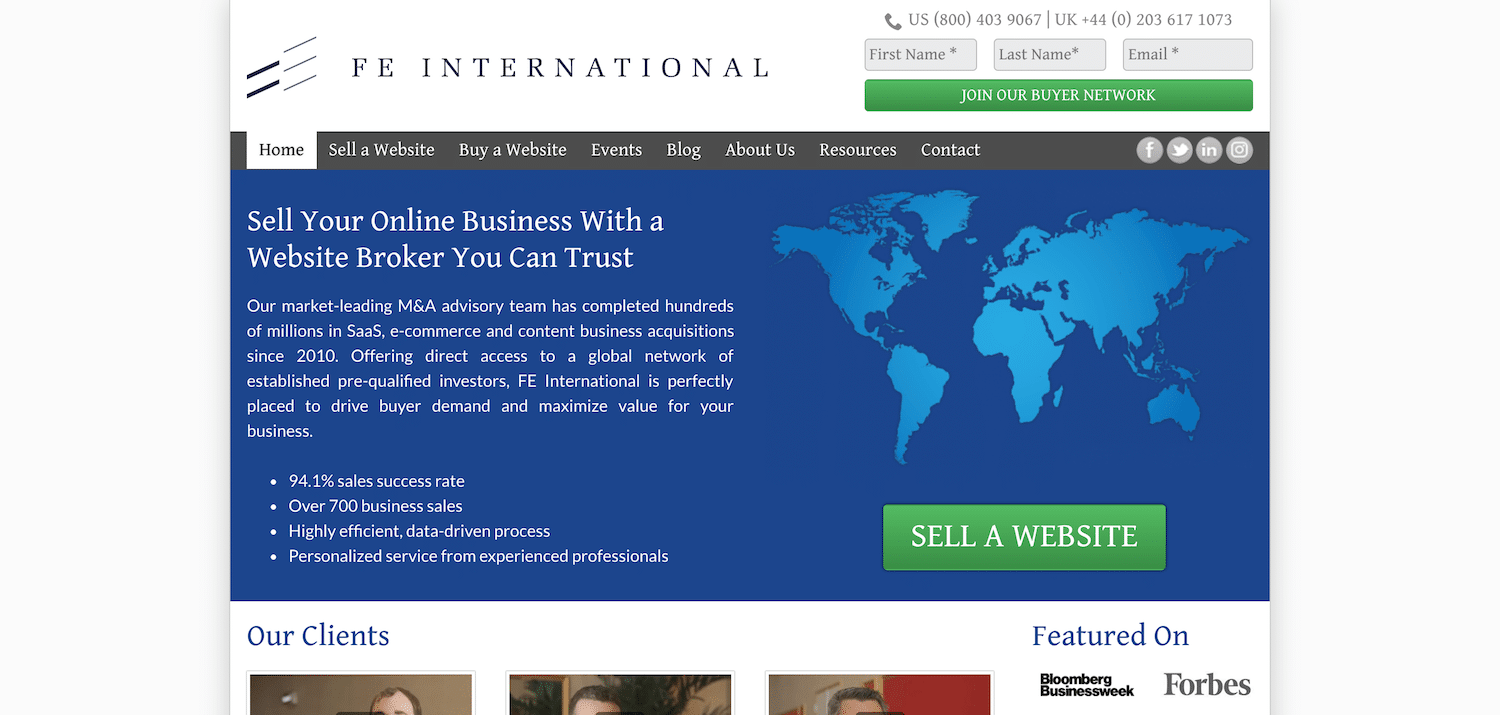 FE International is a professional website broker offering direct access to a global network of over 41,000 pre-qualified investors.
This means that your business will only be shown to people who are genuinely able to buy, so there's no hassle from time-wasters or scammers. FE International aims to maximize the value of your business, as well as helping you to prepare for the eventual sale.
4 Tips for Selling Your Website
Unfortunately, selling your website is about more than just domain value and business value if you want to get the best price.
There are certain steps that you should follow to make sure you get the best deal when it comes to selling your website and business.
1. Think About Long-Term Value
Most business value calculations are based on profit. This is useful in terms of reaching a plausible cash value, but it doesn't take into account the long-term value of your business.
Your potential for revenue growth, social media presence, or search visibility are additional factors that show a website's value in non-monetary terms. The continued growth of your website will lead to more profits and increased brand awareness, thus making it more valuable.
2. Understand Your Target Market
As with any other sale, it's important to know your target market: what they want, what they can afford, and how to sell to them.
You would take a different approach selling an eCommerce site than you would a content-based site, and you would expect to attract different buyers. This is an area where hiring a professional broker will really benefit you, as they will have the experience and contacts necessary to approach the right market in the right way and at the right price.
3. Research Other Website Sales
If you've never bought or sold a website before, chances are you won't know how much money is likely to change hands.
Speak to a website broker to find out more about their previous sales of websites in your industry or other comparable businesses. This will give you the most realistic expectations as they are based on real-life experience rather than algorithms and multipliers. Along with prices, you can find out more about what information to include on the listing and what sales tactics to use.
4. Get Your Website in Front of the Right People
While there are many auction sites available, they don't all offer the same service and not all of them are right for the job.
Wherever possible, opt for the bigger, more popular sites that have a long-standing reputation. However, it's worth noting that a large audience isn't always the best audience. If your business is fairly niche, you might be better off contacting a broker with experience and contacts in that sector.
3 Mistakes to Avoid When Selling Your Website
When it comes to selling your website, there are many pitfalls that could end up costing you money or losing you the sale altogether.
1. Focusing on Meaningless Stats
Spicing up your listing with impressive statistics is a good way to attract potential buyers. However, be wary of including vanity metrics that don't actually mean much when it comes to business performance.
Be transparent and only offer real statistics, even if they are less impressive. Focus the listing on your business' strengths, achievements, and most enticing data. Don't hide the negatives, but make the positives really stand out.
2. Forgetting About Longevity
You might have heard that creating a website dedicated to the latest craze or trending topic is a good way to make quick money. People often purchase a domain just to throw up a few rushed pages so they can sell it while the topic is still relevant.
These type of low-effort, low-quality sites rarely make money. If you're looking to make a worthwhile profit by selling websites, focus on the long-term potential of the site rather than a short-term buzz. It takes more time and effort but this will translate into value and saleability.
3. Not Making Your Website Its Best Before Selling
It might sound counterintuitive to put in a lot of work on something you're looking to sell, but doing so will help you to negotiate a better price. Think of it like remodeling a house before sale.
Optimize everything possible on your website, from SEO to monetization tactics and lead capture strategies. Unoptimized websites can be a bargain for buyers, as they can purchase an unoptimized site at a lower price and put the effort in themselves to up the profits with just a little work. Make sure that you benefit as much as possible from your site's potential.
Summary
Selling your website is a big consideration and it's worth doing as much research as possible before committing to the idea.
By taking some time to figure out your website's value, potential, and market, you can ensure the most successful sale. If you're seriously considering it, get in touch with at least one broker, who will be able to give you realistic advice that is relevant to your situation. It costs a little money, but it's well worth the investment.
---